Grantham Sunrise Rotary Club  was Inaugurated into The Rotary International organisation in April 2015. We held our 1st Charter on 4 July 2015. It is an Innovative and Flexible club meeting fortnightly on alternate Thursdays at 7.15 to 8:15 a.m. at The Farrier Harlaxton Road Grantham.  Our Charter President was Andre Finney along with 22 Rotarians.
The club is a daughter club of The Rotary Club of Grantham meeting on Monday lunchtime. Rotarian Irvin Metcalf PHF was chairman of the steering group helping the members to form the new club and guiding the members towards the inauguration and Chartering. The Club members adopted this Logo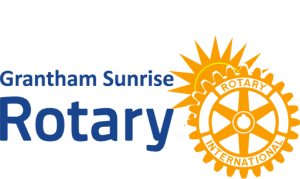 which represents a breakfast club, for the busy working Rotarians.
The members decided quite early on that they would be a 'Hands On' club rather than a fund raising club. To this end projects such as a new kitchen for Grantham Food Bank and School Mock Interviews were accomplished even before Inauguration. Since then the members have been involved with Grantham Carnival, Inter Club Car Rally,  Rotary & Global Swimarathon, Crocus bulb planting for Rotary End Polio Now Campaign and Work mentoring. to name but a few and lots of fun along the way.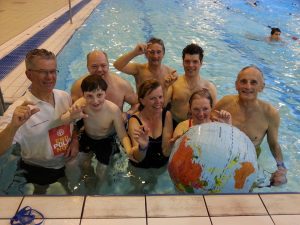 Rotary Global Swimarathon